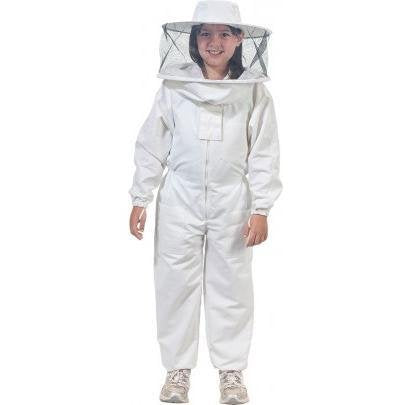 Child's Fee for Beginning Beekeeping Class
Children ages 10-14 may register for our beginning beekeeping class using this selection rather than the Extensive Beginning Beekeeping Class. Ages 15 and up should use the Extensive Beginning Beekeeping Class selection. If you wish to register a child under 10, please contact us first. All children must be accompanied by a parent or guardian at all times. Children may not leave the classroom without a parent or guardian. This is the same class the adults attend, but due to the number of parents asking for their children to attend with them, we are now offering this option.
Note: This is not a different class than the Extensive Beginning Beekeeping Class -- just a less expensive fee for children at the beginning beekeeping class.

Learn what you need to know to keep bees and produce honey in this extensive 1-day, 6 hour beginning beekeeping class. Our experienced beekeepers lead you through topics such as the basic functions of the hive, types of bees present in your hive, necessary gear, identification and treatment of bee diseases and pests, managing a beehive, honey production, honey harvest, collection of nectar and pollen, how to get bees for your hive, examining a beehive, a year in the life of a beekeeper, and much more. Plus, you will be able to explore an active hive filled with live bees and do some hands-on learning during this class. (Protective gear provided for use.) We will cover the necessary information you need to begin producing honey and raising healthy bees in this exciting 6 hour class. 9:30-3:30 at Texas Bee Supply. Taking notes is highly recommended.

2023 Schedule of Topics
9:30-10:30
Basic Functions of the Hive
Overview of workers, queens and drones
Hive woodenware and personal protection equipment
10:30-11:30
What's What in a Hive
Identification and treatment of bee diseases and parasites
Obtaining Bees for Hives
11:30-12:30
A year in the Life of a Beekeeper
The 15 most Important Things to Know in Beekeeping
12:30-1:00
Lunch (Provided)
1:00-2:00
Hive Management
How to Examine a Beehive
Honey Production
2:00-2:30
Collection of Nectar and Pollen
Honey Harvest
2:30-3:00
In the Bee Yard: Live Beehive Tour and How to Examine Live Hives
3:00-3:30
Final Q & A
Schedule subject to change without notice.
Looking for more options? Check out our full list of available beekeeping classes.