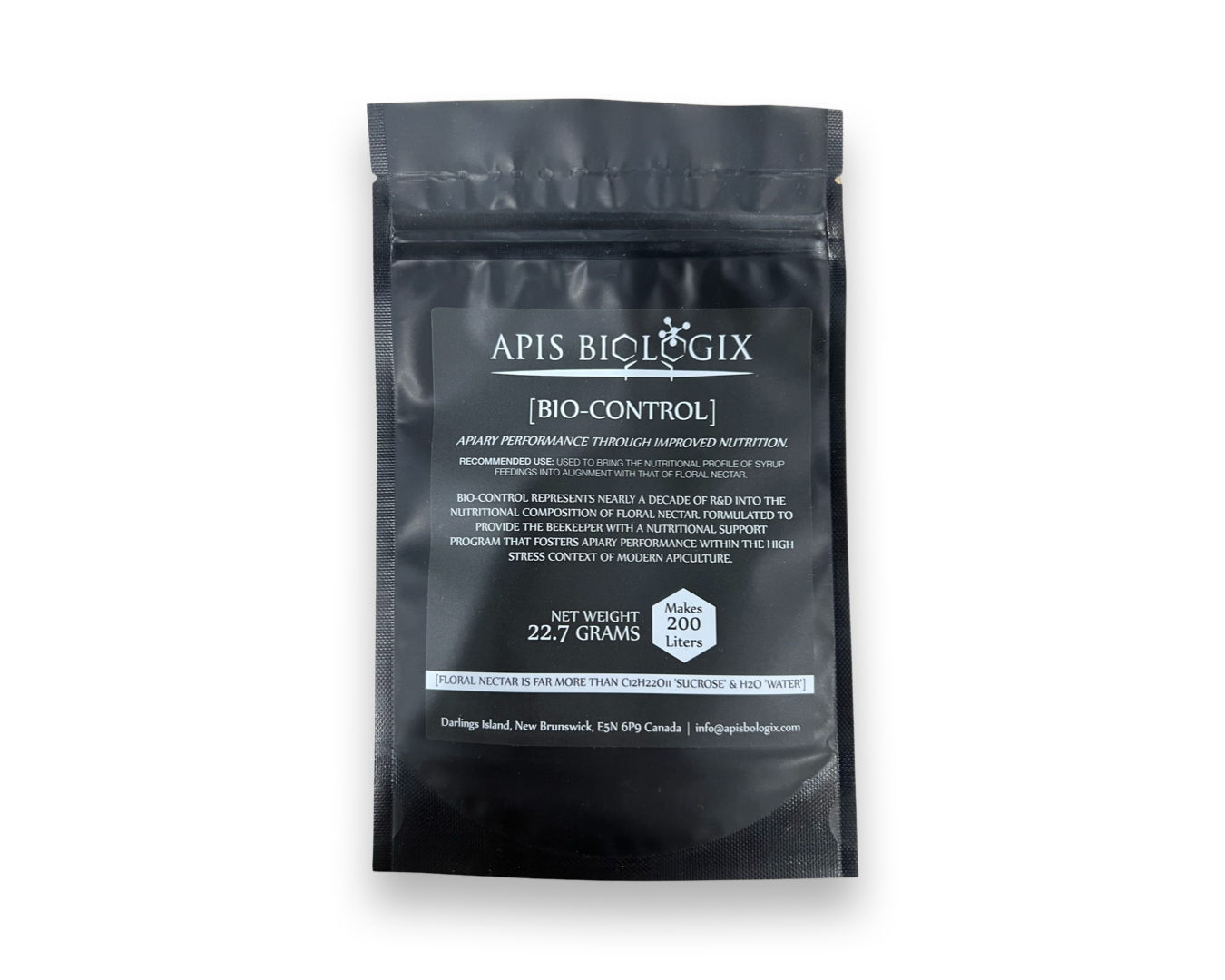 Apis Biologix Bio-Control
Warning - Apis Bio Control is for use only with syrup mixture.  Bio Control will not work with pollen supplement mix (pollen patties).  
Try Apis  Bio Activator for use with pollen patties 
BIO-CONTROL is the first (and only) formulation of Phytochemical, Phenolic, Amino Acid, Vitamin and Phytohormone profiles naturally present in floral nectar that have been independently research verified to produce beneficial effects at the population, colony, and individual level of analysis.
INSTRUCTIONS FOR USE:
ADD 102.5 MG [BIO-CONTROL] PER LITER OF MIXED SUGAR SYRUP  or 1/32 of a teaspoon  FOLLOWING YOUR ESTABLISHED. FEEDING (SPRING / LATE SUMMER / FALL) SCHEDULE. 

PREMIX WEIGHED PORTION OF [BIO-CONTROL] INTO SMALL AMOUNT WATER WITH A COMMON. BLENDER.

ADD [BIO-CONTROL] SOLUTION TO SUGAR SYRUP & MIX WELL.

AS WE DO NOT USE CHEMICAL STABILIZERS OR PRESERVATIVES IN THESE PRODUCTS - MIX FRESH BEFORE EACH USE.

THE 1000L PACKAGE WILL MAKE 1000L OF FINAL SYRUP SOLUTION.

THE 200L PACKAGE WILL MAKE 200L OF FINAL SYRUP SOLUTION
Specifications
ASPARTIC ACID, SERINE, GLYCINE, HISTIDINE, THREONINE, PROLINE, TYROSINE, VALINE, ISOLEUCINE, LEUCINE, PHENYLALANINE, LYSINE, GLUTAMIC ACID, ARGININE, ALANINE, METHIONINE, GAMMA AMINOBUTYRIC ACID (GABA), PHENOLIC PROFILE, ASCORBATE, AND PHYTOHORMONE PROFILE IN THE CONCENTRATIONS AND PROPORTIONS FOUND NATURALLY IN FLORAL NECTAR.