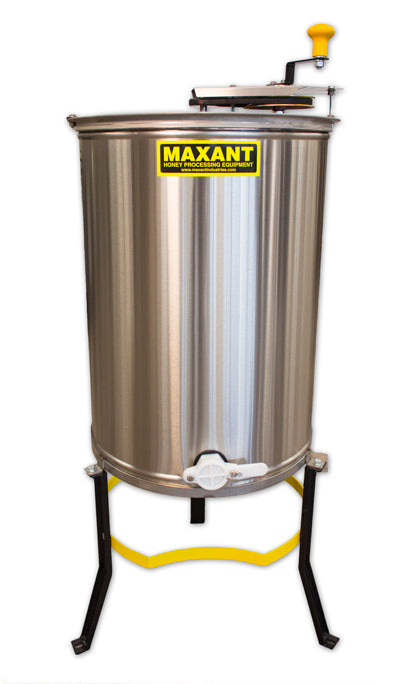 Maxant 3100H-9 Frame Manual Extractor
This Item is available for in store pick-up only. 
Are you into beekeeping seriously? Don't waste your money on a cheap machine unless you think your enthusiasm is a one year deal!
The Maxant hand machine is built to last a lifetime. These tanks are constructed from 20 gauge #4 polished stainless steel, with a conical bottom TIG welded for maximum draining. This is QUALITY. You will be amazed at the remarkable engineering of the inner basket which can hold up to nine frames. The inner basket is 100% stainless steel. TIG welded and tested on balancing machines. Stiffening rings located at the top and bottom. Leg kit not included, sold separately.
The 4 to 1 belt driven ratio is perfect for ease of use.
These machines can be converted to power when you are ready to get serious. Will extract wood or plastic frames with no modifications. Extracts 6 medium/shallows radially and 3 deeps/medium-shallows tangentially
This machine is 18.5" in diameter, and 24.5" in height.
3100 Manual Extractor Instructions

Note: We do not ship this product