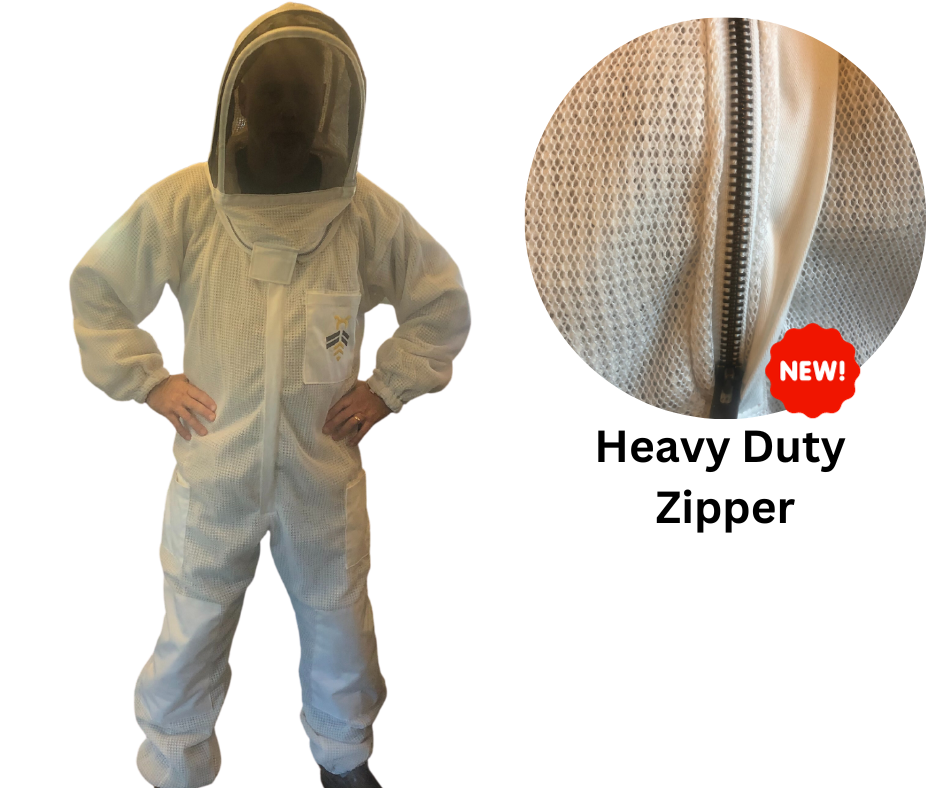 Super Suit w/ Heavy Duty Zipper
NEW heavy duty zipper and one piece veil!
We think we have a one of a kind suit , unlike any other on the market.
The one and only TBS Super Suit! This suit is built to last. Now made with a extra heavy duty rust proof zipper and a one piece veil that does not open.making it even more rugged.
Made of the toughest triple layer material we could find along with rugged knee coverings, heavy duty elastic, adjustable wrists, full length leg zippers and added material through the torso. We didn't even skimp on the cotton for the pockets or the thread and insisted on both of those being worthy of the Super Suit - durable, heavy weight, top-of-the-line materials.

We believe this is the best beekeeping suit available anywhere. Visit us and see it for yourself or just take our word for it and place your order!
Created By Beekeepers For Beekeepers!
Here are some sizing examples:

Bart is over 6' around 410 lb. Wears a 4XL suit
Steve is 6'4' 300 lb. Wears a 3XL suit
Barry is 5'11" 255 lb.  Wears a 2XL suit
Gary is 6 feet tall 185 lb. Wears a Large or XL suit. 
Allen is 6 feet tall 150 lb.  Wears a large suit

Nancy is 5'5' 140 lb.  Wears a small or a medium suit
Amanda is 5' 100 lb. Wears an XS suit